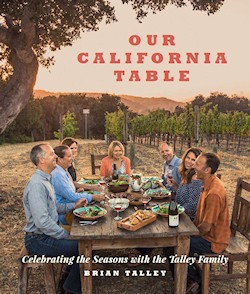 Our California Table
Gifts & Goods
I love to cook and I wrote Our California Table to celebrate our unique history as farmers and winegrowers as well as the special character of our region. I hope you enjoy preparing the dishes as much I enjoy sharing the recipes. - B.T.
Profits from the sale of Our California Table will be donated to the Fund for Vineyard and Farm Workers, an endowment held by The Community Foundation San Luis Obispo County for the benefit of farm workers and their families.
Professional Reviews
Robert M. Parker, Jr., The Wine Advocate. The Talleys are known for some damn delicious, world-class pinot noirs and chardonnays, but their heart and soul is found in their 70 or so years of growing and harvesting some of the best vegetables on California's central coast. I had one of their avocados, which literally blew me away with flavors and texture I've never had before. The Talleys are the quintessential farm to table, family run enterprise, and Our California Table is one book you must own.
Talley Wine Club
Classic in character yet lively in spirit, we craft Pinot Noir and Chardonnay that are true expressions of our estate vineyards.
Join Our Club